Hi - not sure if i have to use English or if German is also OK - please let me know.
Second - I'm just a web interface hero - not command line - so please keep the explanation simple

Background:
Since about 15 months I'm using UCS - and it is great platform for people like me.
I started with the core system - added samba for integrate my windows systems - and enabled mail based on Dovecot (UCS packet) - finally I added OX App Suit with OX Documents. All great and simple.
To "backup" the core system, I installed a DC backup. Still all fine.
Than 4.2 was offered - and my trouble started.
The upgrade to 4.2 itself on both systems looked good - just web-interface timed out or was coming up with some error messages. I could still work - and my hope was that an upgrade would fix this soonest.
At one point in time, I found out, that I was unable to download the OX mail-client for windows "emclientforox/emclient_appsuite_v6.0.26257.msi". The file is not where it should be - and even a full search couldn't find the file on the core system. The OX-drive file is where it should be and can be downloaded. Second issues on OX is - if I share files with someone, the shared link is a http link - but all my communication is based on https - and I was unable to find in the UCS registry something to change this from http to https.
Now - even after following the UCS update process - the web-interface is coming with error messages. And finally now, UCS is unable to offer the latest update packet on the core system (on the DC backup it worked).
Where I need your help:
I'm currently at the point, where I'm not sure if it would not be better to install a new core system (and a DC backup) directly based on 4.2 - or to work on fixing the issues.
Option 1 --> building a new UCS core - plus a new DC backup all based on 4.2:
Building the two systems is a quick and simple task. The challenge for me is just on how to keep all the user/computer accounts, the samba AD integration and maybe most important - how to keep all emails (incl the accounts).
Option 2 --> fixing issue by issue by keeping the existing systems:
In general a good good thing - but option 1 would give me some advantages --> fresh system - and I would know also for future on how to migrate services from one system to an other.
Below as an example the message from the UCS core after opening the "Software update" page.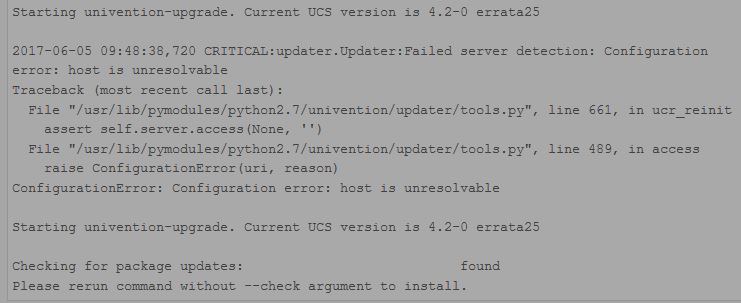 PS: Now after about 8 to 10 try over some days and some reboots, I'm getting the option to install the latest update packet (errata 26). Let's see how it goes - system finished with no errors - but after reboot, the "Software update" pages has the same issue (timeout - but showing errata 26 is installed).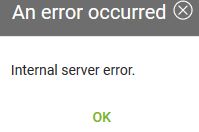 Any feedback is more than welcome - maybe we focus on option 1 (I hope that is the long term better one).
Thank you in advance
Pepe
In addition - messages from the system:
1#