Hi,
I know there is an old topic regarding this issue, but I didn't want to revive the dead.

The demo is offline as used by @fbartels.

I was trying to connect my UCS nextcloud with kopano. I've also installed the Let's Encrypt Module.
The IP doesn't work (red lamp):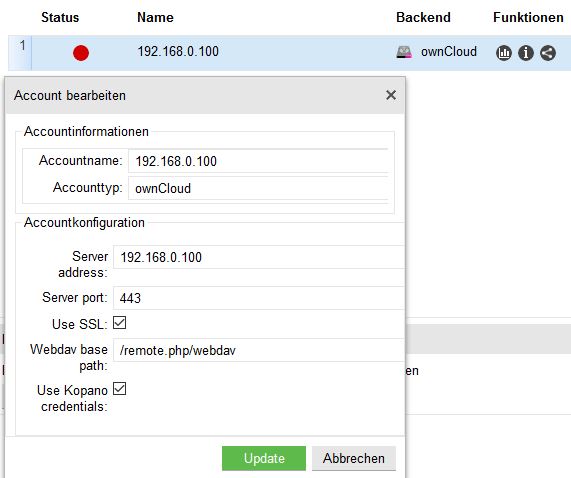 And also the FQDNS doesn't work:
Edit: FQDNS changed to 'example.com'
Accountinformationen
Accountname: FQDNS
Accounttyp: ownCloud
Accountkonfiguration
Server address: example.com
Server port: 443
Use SSL: Yes
Webdav base path: /remote.php/webdav
Use Kopano credentials: Yes

I tried also without "use kopano credentials" and gave user and password, but the red lamp is on.
And I mounted it also as webdav. like written here: https://docs.nextcloud.com/server/12/user_manual/files/access_webdav.html
example.com/nextcloud/remote.php/dav/files/USERNAME/
Accountinformationen
Accountname: webdav
Accounttyp: Webdav
Accountkonfiguration
Server address: IP
Server port: 80
Use SSL: No
Webdav base path: /nextcloud/remote.php/dav
Use Kopano credentials: Yes

Best regards,
Pollux