Hi,
today i updated to 5.0.4.
After this i have Problems with Self Service again.
I have installed Self Service Backend installed on my Primary, Self Service installed on Primary and Secondary. On primary works, on Secondary no. Diagnosis no tell me errors.
Secondary is the only one, who is available for Users.
I never see this before: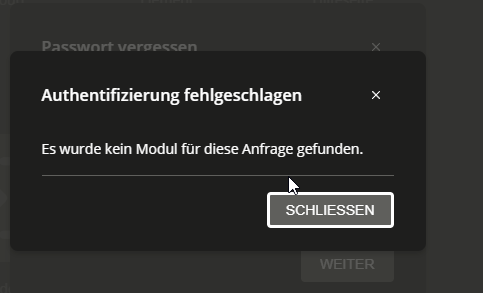 While this message comes, i get this in Logs:
25.06.23 14:28:57.782  DEBUG_INIT
25.06.23 14:28:58.409  MODULE      ( PROCESS ) : Setting user LDAP DN: None
25.06.23 14:28:58.409  MODULE      ( PROCESS ) : Setting auth type: None
25.06.23 14:28:58.409  MODULE      ( PROCESS ) : Received request '/univention/command/passwordreset/get_reset_methods': ('None', None, None, 'de')
25.06.23 14:28:58.410  MAIN        ( WARN    ) : Locale 'de.UTF-8' is not available: unsupported locale setting
25.06.23 14:28:58.410  MAIN        ( WARN    ) : Could not set language. Resetting locale.
25.06.23 14:28:58.416  MODULE      ( PROCESS ) : get_plugins(): Plugin class 'SendWithExternal' for sending method 'None' is disabled.
25.06.23 14:28:58.422  MODULE      ( PROCESS ) : get_plugins(): Loaded sending plugin class 'SendEmail' for sending method 'email'.
25.06.23 14:28:58.430  MODULE      ( PROCESS ) : get_plugins(): Plugin class 'SendSMS' for sending method 'mobile' is disabled.
25.06.23 14:28:58.431  MODULE      ( PROCESS ) : get_plugins(): Loaded sending plugin class 'VerifyEmail' for sending method 'verify_email'.
25.06.23 14:28:58.435  MODULE      ( PROCESS ) : get_plugins(): plugin class 'SendEmail' for sending method 'email': udm_property: 'PasswordRecoveryEmail' token_length: '64'
25.06.23 14:28:58.435  MODULE      ( PROCESS ) : get_plugins(): plugin class 'VerifyEmail' for sending method 'verify_email': udm_property: 'PasswordRecoveryEmailVerified' token_length: '64'

Any ideas?
Thanks