Good night friends, I'm opening this post here because I'm facing a problem that according to friends of mine who are Microsoft system administrators should not be occurring …
I have the following environment, matrix with UCS Master IP 192.168.0.250 and an instance in the branch with UCS Backup IP 172.16.90.2, both in the newest version currently at 4.4-6 errata767.
The integration between both works normally, when I create a DNS entry on the Master it replicates to the slave, but the entry: "_ldap._tcp.dc._msdcs" is not replicated and returns an error as if it did not exist.
I entered the web interface on Master and Backup and went to the DNS tab and went to see it and although Backup took longer to load DNS entries, it showed the entry, as if it had replicated, but it is not solving it.
I need this from there because in the branch I use the main DNS Server 172.16.90.2 and when I do that and try to add a computer to the domain, it informs that the _ldap._tcp.dc._msdcs.domain.local entry does not exist.
Following are some prints of DNS responses via nslookup on the terminal (in Portuguese) and the screens of the DNS web interface.
nslookup UCS Master


nslookup UCS Backup


DNS Server Master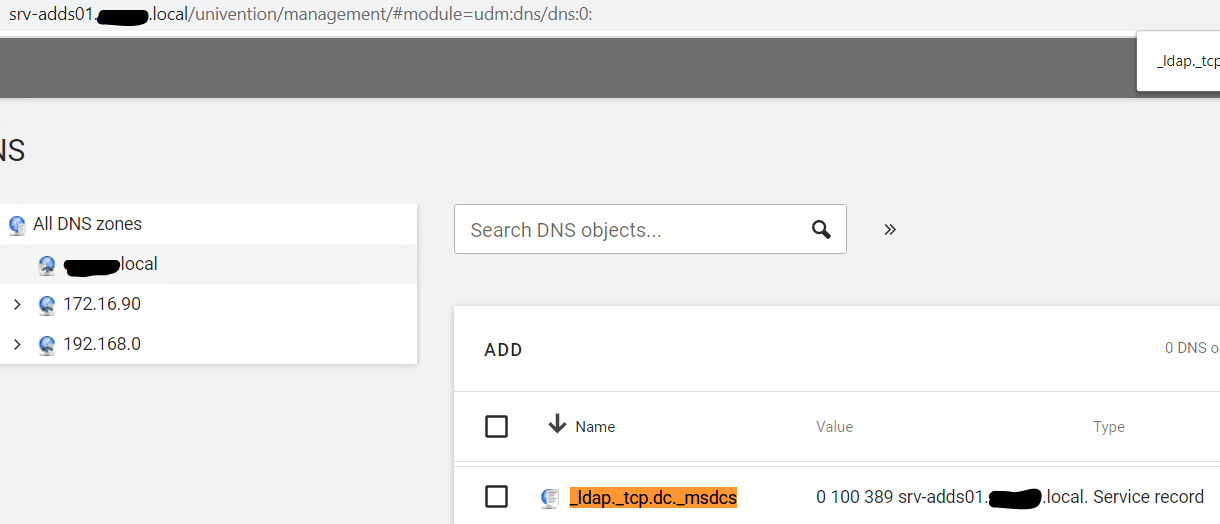 DNS Server Backup