How To Configure DHCP Server with Policies and Multiple VLANs
You have multiple VLANs and they should all be covered by the Univention UCS DHCP server. For each VLAN you have to configure different DHCP options like IP-gateway and so on.
Environment
If the server does not have an network interface card in each VLAN you have to use a DHCP relay service in the remote VLAN. This topic is not covered here.
Solution
Step 1 - Install DHCP Service
Make sure you have the DHCP service installed through the AppCenter:


Step 2
If not already done create a DHCP service according to your domain name:


Step 3
Add your UCS DHCP server to this service and create subnets for each VLAN. Configure the VLANs according to your need (address range and broadcast address).


Step 4
For those settings which should apply to ALL VLANs create and assign policies to the service object. This might be a global DNS server and domain name. These settings will be inherited by the VLANs: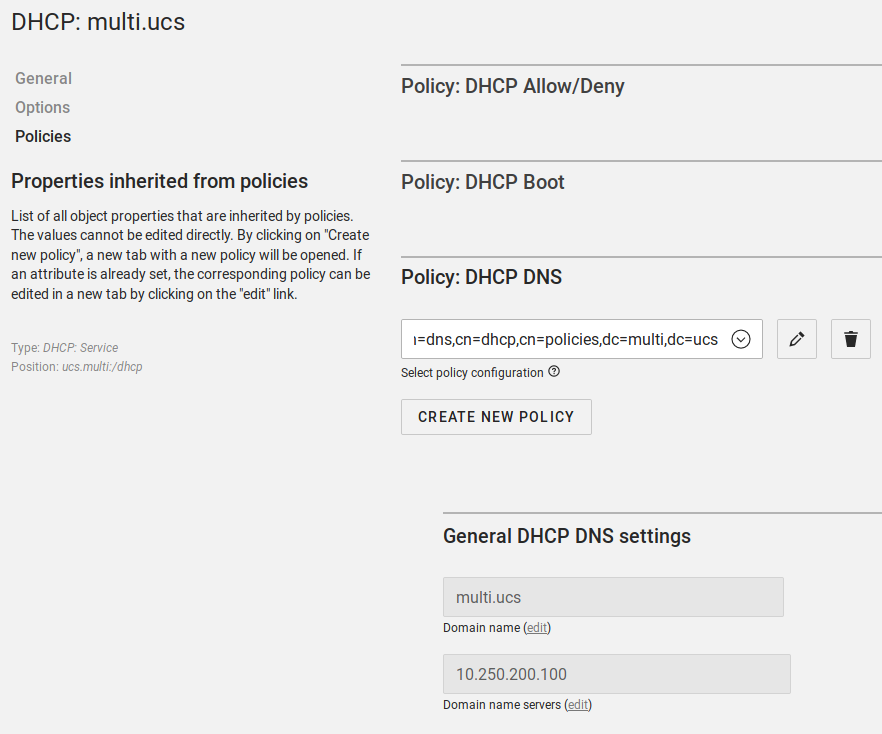 Step 5
For those settings which should only apply to single (or multiple) VLANs assign a policy to the subnet object.
Note: Make sure there is no policy assigned to the higher service object! This would take precedence.